Antioch Kids Team Party
Saturday, January 19th, 4:00PM
Location:  The Livingood Home
If you are a member of the Antioch Kids Team, please come celebrate all that has happened and is going to happen in Antioch Kids! Bring your favorite food and be ready to laugh and enjoy fellowship! Please RSVP to Bri Livingood.
Daddy Daughter Dance
Saturday, January 26th, 3:00-5:00pm
Location:  Antioch Waltham, 17 Spruce Street, Waltham
Dads (or other father figures) and daughters, it is time once again to throw on your dancing shoes and join us at Antioch Waltham for a Daddy Daughter Dance. The afternoon will be filled with dancing, games, and snacks! This is a joint event with Antioch Brighton.
Tickets are a suggested donation of $10 per family and are available to be purchased at the door on the day of the Daddy Daughter Dance. If you have questions, please contact Lacey Baron or Sandra Asermelly.
Antioch Kids Volunteer Training
Sunday, February 3rd, 12:45PM (Lunch Included)
Location:  Antioch Waltham, 17 Spruce Street, Waltham
This is our annual team training. This training will focus on abuse prevention and providing safe spaces for our kids. This is a requirement for all Antioch Kids team members, please RSVP to Bri Livingood.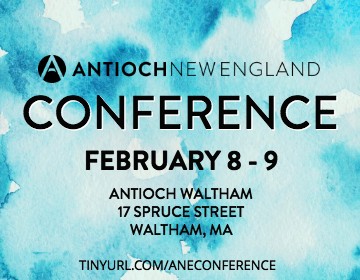 Antioch New England Conference 2019
Friday, February 8th through Saturday February 9th
Location:  Antioch Waltham, 17 Spruce Street, Waltham
This year, in lieu of hosting World Mandate, we'll be joining together with our three local congregations to celebrate 20 years of Antioch in the greater Boston area and to look ahead to what God will do in the next 20 years. 
Registration is open at tinyurl.com/aneconference. Seating is limited, so sign up early!
Early bird pricing is $40 for adults until January 8th and prices for youth or children are $30. Contact Jen Odamah at jenodamah@accboston.org for more information.
Baby Dedication
Sunday, February 10th at 9:00AM and 11:00AM Services
Location:  Antioch Waltham, 17 Spruce Street, Waltham
During both of our Sunday services on February 10, we will have a time of baby/child dedication. This is a time when parents commit to teaching their children about following God. If you are interested in having your baby/child dedicated, please let us know!
Contact Brendon Hollingsworth if interested.
Marriageable Conference
Saturday, March 2nd from 9:00AM-6:00PM (Breakfast at 8:30AM)
Location:  Antioch Waltham, 17 Spruce Street, Waltham
"Marriageable" is a one day conference focused on Christian adults who want to take the next step in finding their spouse. Jordan Ogden, from Antioch Ann Arbor will address developing healthy self, healthy friendships and...the question we're all asking "How do we enter into healthy dating?" We'll address the unique challenges Christian singles face today and hear relevant solutions to help us move forward to the next steps. Join us for breakfast at 8:30 am!
The cost will be $25 a person and lunch will be provided. More info on how to register coming soon!