Pressed but not Crushed – This Saturday!
Saturday, May 21st, 10am-1:15pm

We would love to invite you to an upcoming event geared for women who are influencers and leaders in their spheres. (By the way, we believe that God's made each of us women of influence in the spheres we inhabit...we don't need to have an official position or title to be considered an influencer.) There are unique ways that we as women can face barriers or challenges as we seek to live fully into God's calling on our lives. Our goal for the morning will be to inspire, encourage, build up, and help you feel supported and seen.
We will have a short time of worship, a keynote talk, two workshop breakout times (see registration link for workshop options), small groups, and prayer for all of you.
Any women in any of the Antioch churches are welcome to attend. We will not be providing babysitting, but if you need help paying for a sitter, please reach out to us (Dorothy Greco or Sophia Ma). Nursing babies are always welcome.
Where: 17 Spruce St, Waltham
Cost: Free event!
Antioch Discipleship School (ADS) Interest Meeting
This Sunday, May 22, 9:30am (or on Zoom, June 9)

Come and hear about the Antioch Discipleship School (ADS) to see if this is the right year for you.
Join our interest meeting at 9:30am before service at 17 Spruce St, Waltham, on Sunday, May 22, or on Zoom on Thursday, June 9, at 7:00pm to get your questions answered. ADS combines spiritual formation, discipleship, and accountability to help the church BE the church. We're called to love well and make disciples.
Is this your year?
Contact Alaine with any questions at Alainerousseau@accboston.org
This Sunday! Our annual Antioch cake auction tradition continues!!
Sunday, May 22nd after service at 17 Spruce St, Waltham

On Sunday, May 22, plan to stay right after church for our Cake Auction fundraiser. Proceeds go toward the Antioch Discipleship School and their summer mission trip to N. Africa. Gather your friends, come hungry, get your wallets and get ready to have some fun.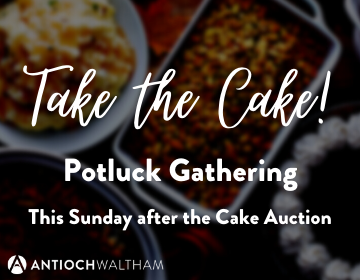 Join us for a potluck gathering after the Cake Auction this Sunday!
Sunday, May 22nd after the Cake Auction at 17 Spruce St, Waltham

Take The Cake is a Young Adults hosted potluck open to the whole church after the Cake Auction. We want to continue to pursue our identity as a family in our church by sharing a meal together. We would love to eat your newly auctioned cakes and any food you would like to bring together. Plus, we will pray for the ADS class that we're raising money for their trip to North Africa.
Sign up sheet here for food, snacks, refreshments, and setup/cleanup!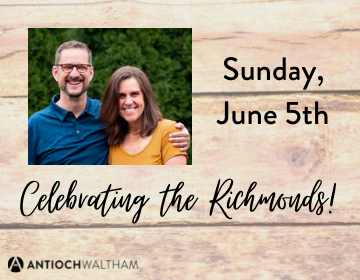 Celebrating the Richmonds!
Join us before and after the service on Sunday, June 5th, at 17 Spruce St, Waltham

Join us on Sunday, June 5th, as we celebrate Sean and Laura Richmond.
June 5th will be Sean's final Sunday as lead pastor (the Richmonds will continue on as a part of Antioch Waltham, but Sean will transition into his new role with the Antioch movement as U.S. Director of Pastoral Care).
At 9:30am, before the service, there will be coffee, other refreshments, and fellowship, and after the service there will be a time of celebration.
Join Us in Prayer
Ongoing through Spring 2022
The transition team has gathered the following prayer points as Sean Richmond (Lead Pastor) prepares to step into his new role as Antioch Director of Pastoral Care and as John Prickett (Director of Ministry) and his family prepare to move to the Philadelphia area this summer. The Richmonds and Pricketts would be so grateful for much prayer in this season!
For Sean:
Establish a balanced rhythm of schedule in transition
Good closure with present staff, leaders and congregation in present role
Support the transition leaders well
Clarity on job priorities in new role
Continue to walk in a sabbath rhythm - personal, family, friends, and job
Health in spirit, soul and body (1 Thess. 5:23-24)
For John:
Guidance and wisdom regarding specific location for town, house & schooling
Provision of a job opportunity for John that lets his gifts and strengths be used
Peace, joy and sense of security for Gabe and Maddie in the midst of transition
Meaningful time with church family and friends before their move
A smooth and effective transition in all of John's areas of pastoral responsibility
---
***Also, please don't hesitate to reach out to the Transition Team at WalthamTransition@accboston.org if you have any feedback, thoughts, concerns, questions, prophetic words or encouragements as we move through this season as a church family. Each member's voice is so valuable in this journey!***
Antioch Family Camp 2022 - REGISTRATION IS OPEN!
Week 1: July 10-15 & Week 2: July 17-22
Lots of openings still in Week 1!
Join us for a week of family camp which includes daily worship, adult and children's programs, prayer, deliciously cooked meals, God's creation in nature, kayaking, canoeing, swimming, hiking, blueberry picking, basketball, rock climbing wall, ping pong, foosball, children's playground, activities and games, devotions, scripture teaching, campfires, etc. Registration is now open!
Delta Youth Group
Every Other Friday, 7 - 9 PM
Calling all middle school and high school students!  We have kicked off our new school year at Delta Youth!  Grab a friend and join us here at Antioch Waltham.  All youth are welcome.
Stay updated on any changes in our COVID-response! We send out weekly updates about ways we're meeting together, how to get involved and connect with others. Note: we will never forward your information to third parties, and you can unsubscribe easily at any time.